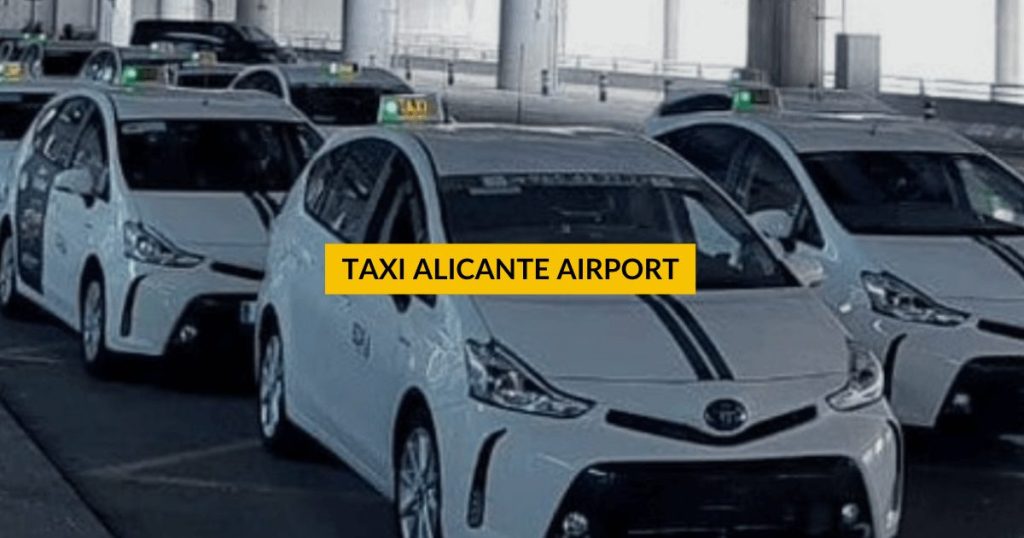 Alicante Airport Taxi is one of the best and most reliable ways to get to or from the airport quickly and safely.
Whether you are travelling alone or with your family, taking a taxi can be convenient and stress-free, reducing long waiting times for buses or finding parking spaces for cars.
In this article we will look at some of the advantages, types of taxis available, booking procedures, fares and much more.
The Best Alicante Airport Taxi
Kiwitaxi.com is a leading provider of airport taxi services at Alicante Airport. They specialise in providing a door to door service to and from Alicante Airport for both individuals and groups.
Why Book Kiwitaxi?
Here are some of the reasons why we recommend and use Kiwitaxi:
Their reliable chauffeur-driven service will guarantee you a comfortable and stress-free journey, as well as punctuality, safety and privacy at all times.

Travellers can choose from a wide range of vehicles, including economy cars, luxury sedans or premium vans for larger groups.

Kiwitaxi drivers are experienced, licensed professionals who will help make your journey as safe and enjoyable as possible, as well as helping you load and unload your luggage. The driver will be waiting for you with a sign at the airport.

They offer a convenient online booking option so you can easily book your car in advance. This will ensure that your car is ready to take you to and from the airport without any hassle.

Kiwitaxi offers special discounts for large groups and long trips, as well as corporate rates for business travellers.
Prices for Taxis from Alicante Airport (ALC)
The following table shows the taxi fares from Alicante Airport to the most popular destinations in economy fare.
The economy fare includes a Skoda Octavia or Toyota Corolla class vehicle with a maximum of 4 passengers and luggage.
| Destinations from Alicante Airport | Cost of Taxi |
| --- | --- |
| 1. Alicante Airport - Benidorm | from 87 € (cheap price for 4 people) |
| 2. Alicante Airport - Elche | from 53 € |
| 3. Alicante Airport - Alicante (City Centre) | from 51 € |
| 4. Alicante Airport - Torrevieja | from 95 € |
| 5. Alicante Airport - Denia | from 199 € |
| 6. Alicante Airport - Calpe | from 143 € |
| 7. Alicante Airport - L'Albir | from 114 € |
| 8. Alicante Airport - Altea | from 124 € |
| 9. Alicante Airport - Murcia | from 124 € |
| 10. Alicante Airport - Playa San Juan | from 64 € |
| 11. Alicante Airport - Train Station | from 51 € |
| 12. Alicante Airport - Guardamar del Segura | from 76 € |
| 13. Alicante Airport - Campello | from 72 € |
| 14. Alicante Airport - Valencia | from 269 € |
| 15. Alicante Airport - Moraira | from 167 € |
The price is fixed in advance. There are no surcharges for waiting times, tolls or time of day.
Kiwitaxi Fleet at Alicante Airport
Kiwitaxi offers 10 types of transport, depending on your preferences and the size of your group.
| Tariff | Make and Model | Passengers |
| --- | --- | --- |
| 1. Economy | Skoda Octavia, Toyota Corolla | up to 4 passengers |
| 2. Comfort | Toyota Camry, VW Passat | up to 4 passengers |
| 3. Minivan 4pax | VW Touran, Ford Galaxy | up to 4 passengers |
| 4. Business | Mercedes E-class, Lexus GS | up to 3 passengers |
| 5. Minibus 7pax | Toyota Hiace, Opel Vivaro | up to 7 passengers |
| 6. Premium Minibus | Mercedes V-class, Toyota Alphard | up to 6 passengers |
| 7. Minibus 10pax | Mercedes Sprinter, Ford Transit | up to 10 passengers |
| 8. Minibus 13pax | Mercedes Sprinter, Toyota Coaster | up to 13 passengers |
| 9. Minibus 16pax | Mercedes Sprinter, Yutong, Isuzu | up to 16 passengers |
| 10. Minibus 19pax | Toyota Coaster, Yutong, Isuzu | up to 19 passengers |
You can choose the cheapest fare depending on the number of passengers. The maximum number of passengers for a private transfer is 19 per minibus.
Taxi Ranks in Alicante Airport
The taxi rank at Alicante Airport is located at the ground floor exit of the New Terminal.
If you book a taxi with Kiwitaxi, the driver will meet you in the arrivals hall with a sign with your name on it and take you to your destination without you having to worry about anything else.
Taxi Services at Alicante Airport
The company Radio Taxi Elche is in charge of the official taxi service at the airport. The taxis belonging to this company have a green stripe running from the front to the back of the vehicle, and bear the coat of arms of the city of Elche on the front doors.
List of all taxi services at Alicante Airport and telephone numbers:
Kiwitaxi: +44 2080682801
RadioTaxi Elche: +34 965427777
ServiTaxi Elx: +34 965212121
You can always book a taxi from Alicante Airport using these phone numbers.
How to Book a Taxi at Alicante Airport
Booking a taxi at the airport can be done in several ways. You can go to a taxi rank at the airport, call by phone or order a taxi online. To make sure you get the best price, it is recommended to book online in advance with Kiwitaxi.
3 Steps to Order a Taxi Online
Select your preferred route and vehicle.

Complete the booking form and select your payment method. It is important that you indicate the meeting date and time. After booking, you will be sent a travel voucher by email.

Upon arrival at Alicante Airport (ALC), the driver will be there to welcome you.
Tips for Booking a Taxi
Some tips on how to book a taxi from Alicante Airport safely and cost-effectively. But the best tip is to use Kiwitaxi.
#1. Book in Advance
It is advisable to book a taxi at Alicante Airport as soon as you know your travel plans. This way you'll be sure to get the best rate and have a reliable car waiting for you upon arrival.
#2. Compare Rates
Before you book, compare the prices of the different taxi companies operating at the airport to get the best deal. You can do this online or by calling them before booking.
#3. Look for Fixed Fare Services
Many taxi companies offer fixed-fare services to certain destinations, such as Alicante city centre or other popular tourist spots. If you are travelling to a place that offers fixed-fare services, it may be worth considering them instead of a regular taxi.
#4. Pay in Advance
If you book online, you can save time at the airport by paying in advance. This way, all you have to do when you arrive at the airport is give your name to the driver and get in the car.
#5. Carry Cash
Although most taxis accept credit cards, it is best to carry some cash in case of an emergency or if there is a problem with card payments.
#6. Ask for a Quote
Before you get into any taxi at Alicante Airport, make sure the driver gives you an estimate of how much the journey will cost. This will help you avoid surprises along the way.
#7. Make Sure the Driver is Licensed
All taxis operating at Alicante Airport must have a valid license displayed in their vehicle, as well as an official receipt book. If you do not see any of these items, it is best to look for another taxi company.
#8. Have Your Destination Address Ready
Before you get into the taxi, make sure you know where you are going and have the exact address written down on a piece of paper or saved on your phone so you can easily show it to the driver as you go.
Reviews about Kiwitaxi
Customer reviews of Kiwitaxi services at Alicante Airport:
Karen Smith: «I recently used Kiwitaxi for my Alicante Airport transfer and it was a great experience! The driver was friendly and helpful, the car was clean and comfortable, and the journey was smooth – highly recommended!»
Juan Perez: «Kiwitaxi made my journey from Alicante Airport to my hotel hassle free! The driver was on time, the journey was pleasant and I didn't have to worry about any details. Very satisfied.»
Maria Morales: «My transfer with Kiwitaxi couldn't have gone any better! From start to finish it was fast, reliable and stress free. I highly recommend their services if you are looking for a taxi from Alicante Airport.»
Frequently Asked Questions
How Much Does a Taxi from Alicante Airport to Benidorm Cost?
The cost of a taxi from Alicante Airport to Benidorm will depend on the type of taxi service you choose. Typically, a one-way fare for this route is around 80-90 € for a standard taxi, or up to 100-120 € for an executive taxi.
How Many Passengers Does Alicante Airport Receive?
In 2019, Alicante Airport received over 15 million passengers, making it the fifth busiest airport in Spain and one of the busiest in Europe.